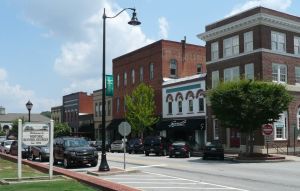 Roofing Contractor Buford GA – Local roofer meeting your roofing needs
For many homeowners, finding a qualified roofing contractor in Buford can be difficult – but it doesn't need to be. What to look for?
> Licensed roofing contractor – don't be shy about asking to see the contractor's license.
> Insured roofing contractor – do they carry liability insurance on your home and their employees?
> Local roofing contractor – are they from the area or did they just come in to handle storm damage? You need a contractor that will be there when you need them.
> Residential roofing contractor – is doing residential roofs their main focus are they just filling in between larger commercial jobs?
Buford GA

The town of Buford was formed as a lunch stop for the Atlanta Richmond Air-Line Railroad. It was named after Algernon Sidney Buford, the then Virginian president. The town became the city of Buford finally in the year 1896. It became the hub of political, educational and manufacturing business as a result of which it came to be known as the "New York of Gwinnett", says Harry Coker, a well-known Georgia real estate agent. The city became world famous for its leather goods production. International recognition in the field of leather production, made Buford, the "leather city" of the world.
The senior citizens can enjoy a blissful life in Buford says Harry Coker. The beautiful country side provides its senior citizens with all the necessary facilities. There are health care hospitals with efficient health care experts, nurses, geriatric care managers, nursing homes, adult day services, senior communities and so on.
Contractor – Roof Inspections Buford GA
Every homeowner will need a new roof at some point, and oftentimes a good roof inspection is a very important way to know when it's time to replace your roof, or simply do some repairs. No matter which part of the country you live in, your roof is subject to extreme weather conditions that can cause serious wear and tear over time. Sometimes, all it takes is one bad storm to wreak havoc on your roof, and that's when you want to let a roofing company with years of experience do a roof inspection and help you know what your options are.
> Licensed Gainesville GA Roof Inspector
> Residential Roof Inspections
> BBB Rated Roof Inspections
> 24 Hour Roof Inspections
As homeowners, regular roof inspection is part of your responsibilities in taking care of and maintaining your house. Although you may not have to worry about paying for roof repairs since they may be covered in your homeowner's insurance, you still do not want to undergo the lengthy process of repairing your roof. Keep in mind that this process can also be messy and exhausting especially if the damage to your roof has reached a severe state.
To avoid this, Division Kangaroof suggests having your roof inspected on a regular basis. This will ensure that your roof is always in good condition. And, most importantly, a professional roof inspector will be able to determine and pinpoint areas that need repair or improvement before they become severe and cause more problems.
Picking the Right Gutters for Your Home in Buford GA
Although you may not dream about your gutters, they're still a very important part of your house. Incorrectly drained rainfall can pool around the foundation of your home and leakage into the crawl space, requiring you to contact various service providers for repairs. An excellent gutter system diverts the rainfall away from your home to appropriate drain, helping to safeguard your house and property from water damage.
> Gutter Installation Services in Buford GA and surrounding cities
> Get a Free estimate for Gutter Replacement
> Restore your homes appearance with Gutter Repair
> Gutter Cleaning to protect your home and roof structure
> Installation of Seamless Gutters and leaf guards
> Rain Gutters and Downspouts
Modern Rain Gutter Systems
As you look at your working gutters, know that there should be no leaks for the full run of the gutter. If you have older gutters, it is important to know that today's modern gutters are seamless; this makes them not only attractive, but extremely leak resistant.
 It might also surprise you how affordable rain gutter installation can be – an experienced professional contractor can install custom-made, seamless, low-maintenance gutters quickly, and for little more than you would pay for cheaper, potentially leaky, PVC gutters from a home supply store.
Division Kangaroof has over 15 years of experience in the roofing industry. We pride ourselves in bringing quality roofing services to the Buford GA area. Call today for a free roof inspection.
Division Kangaroof
(678) 780-4682
info@divisionkangaroof.com
Division Kangaroof
Serving North Atlanta, Gainesville and Surrounding Areas
https://DivisionKangaroof.com
678-780-4682