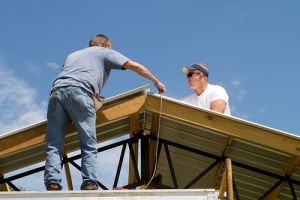 What exactly is a roofing contractor? Well, a roofer is someone who agrees to finish a task like the installation of a flat roof on a residential or commercial property. In return for completing the job, the contractor will get paid. It is where the term contractor originated, a person completing an agreement in replacement for cash.
In cases wherein the roofing contractor Gainesville GA fails to finish the job, he may employ subcontractors to assist him with the completion of a certain roofing project. This scenario is more usual with big sites like shopping centers, churches, warehouses as well as other significantly large structures. Subcontractors could also be employed if the roofing job involves working on a residential property. Some good examples include repairing chimneys, disposing of debris, as well as all-metal flashing.
The best roofing contractor is somebody who works with almost no subcontractors at all. By using less or no subcontractors, it's more encouraging that the roofing company is far more experienced and proficient as well as capable of completing different roofing related installations and repairs. A few other wonderful rewards of employing fewer subcontractors is that the project would probably be less expensive. These cost savings are usually passed on to their client.
Roofing is indeed a specialized skill. Only a few general contractors specialize in roofing because it needs a team of roofers, like those from Division Kangaroof, that is comfortable doing work on a roof and are capable of working under the sun. This is one reason why roofs are generally completed independently from the rest of the house.
A roof is a crucial part of all kinds of building structures, may it be a bungalow, theater, office tower, or maybe a warehouse. Having said that, it is important for a property owner or property manager to get an excellent contractor. The maintenance and repair of roofs are essential to retaining a stable and good quality roof structure.
The roof is exposed to various elements, like extreme heat during summer or heavy snow during the winter season. These temperature changes and atmospheric conditions could create huge problems on a roof. Because of that, it is paramount the ensure that the roof is properly maintained. In case a small problem or worn out condition is observed by a property owner, then a roofing company needs to be called to ensure that the roof would be fixed and renovated to avoid the need to replace the whole roof in the future.
When selecting a professional roofing contractor, one needs to be really strategic when making a decision.
The best method of acquiring a roofing contractor is to hire one for a minor repair or maintenance task. By getting a contractor for a modest job, you would get to see just how good the contractor is. In case you are satisfied with the quality of their job, then go ahead and hire that contractor next time if your roof needs a major repair or perhaps a complete roof replacement project.
Another common method is to obtain an estimate from a potential contractor. Estimates are usually free of charge or may require a small fee. After getting an estimate, you will have a pretty good idea as to how skilled, professional, and seasoned a specific roofing contractor is.
Clearly, you may ask close friends or nearby neighbors who have not too long ago had a job completed on the roof and ask if they would highly recommend that roofing company. Sometimes, these referrals are not usually the advisable path to take when selecting a roofing contractor since your friend or next door neighbor might not truly know how good or bad was the condition of their original roof. It is possible that they have not asked the appropriate questions and therefore could have had what they perceived to be the right job but cost them a bit more.
One good place to search for roofing contractor's qualifications is the National Roofing Contractors Association. You should also keep in mind that today's roofs also come with Energy Star Information.
One basic component that I have to point out is to determine if a potential contractor uses subcontractors. Once again, by hiring subcontractors, the roofing project would be more expensive than it actually is.