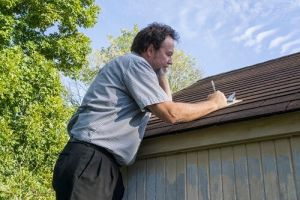 When faced with a damaged roof, experts usually offer three general options for homeowners: roof repairs, replacement and roof recovery. Each has their own benefits and disadvantages, working to expand a homeowner's roofing system. On the other hand, only one is suitable and should be chosen depending on several factors. Sometimes, it is best to simply do the necessary repairs. Other times, the roof will benefit more if it will be recovered and when the damage is too severe and the roof is nearing the end of its lifespan the best option would be to replace the entire system.
It is important that you make the right choice among the three options in order to maximize your budget and benefit more from your roof. Otherwise, you will end up wasting time, resources and money and, worse, causing more damage to your roof.
Factors to Consider When Deciding on Roof Repairs, Replacement or Re-Shingling
The specific type of roof problem
The primary factor that you will have to consider is the specific type of problem that your roof has. Some roof problems can be permanently resolved by doing the necessary repairs. On the other hand, there are also some roof problems that require recovering the roof or a complete roof replacement.
Location of the roof problem
After identifying the specific type of roof problem, you will also have to consider the location of the problem before choosing the most suitable resolution. For example, if your roof has leaks, you will need to find out where the leaks are located. Some leaks can be easily repaired if there are only a couple of them, if they are still in the early stages of leaks, and if they are near the edges of your roof. On the other hand, if the leaks are located in the middle part of your roof and if it has reached through your attic and ceiling, roof repairs may only be a temporary fix.
The design and structure of the entire roof system
You should know that there are roof designs that are developed to last longer than others. These types of roof rarely need replacement or recovery as its damages can easily be resolved through repairs. To determine what specific type of roof system you have, you will need the assistance of a roof expert.
Division Kangaroof will help you find the type of roof system you have including the application method of quality of installation process. You should note, however, that the type of roofing system installed in your home may depend on the climatic conditions in your area.
Current age of your roof
The current age of your roof will help you determine the best type of resolution to its damages. If you have recently undergone a replacement and your roof is fairly new, doing the necessary repairs will be the most appropriate option to choose. On the other hand, if your roof is nearing the end of its lifespan, you will probably benefit more with a roof replacement.
Long-term effects and impact
To really maximize your money and the benefits that you gain from your roofing system, you can also consider the long-term effects and impact of the resolution that you will choose. Keep in mind that the type of resolution you will choose will have long-term impact on your roofing system, particularly on how well it will be able to serve its purpose. Plus, you also have to consider the risks that the repair, recovery or replacement will put on your family's safety.
Give Division Kangaroof a call today to help you professionally identify whether you need roof repairs, recovery or replacement.
Division Kangaroof
Serving North Atlanta, Gainesville and Surrounding Areas
http://DivisionKangaroof.com
678-780-4682