Storm Damage Roof Repair And Replacement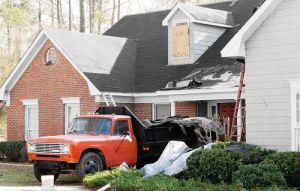 Got Storm Damage? We're Here To Help Storms can often have a large impact on your roof. If you are experiencing leaks following a big storm, or have visible storm damage to your roof, you will find the guidance and assistance you need with Division Roofing. Division Roofing is available to assist with your storm damage in Alto, Cornelia, Gainesville, Flowery Branch, Oakwood, Gillsville, Buford, Braselton, Clermont, Clarkesville and the surrounding areas. Owner Keith will asses the damage done and walk you through whether you need a full storm damage roof replacement or a smaller storm damage roof repair.
Storms and hail can cause immense damage to your roof. It's infinitely advisable to get a professional examination of your roof done to detect the scope of the damage caused. Timely repair of your damaged roof will prohibit it from worsening.
Get in touch with us when you require roof repairs or a roof replacement to be done. What's more? Our professionals can also assist you with your insurance claim process. Call us for a FREE, no-obligation roof inspection to see if your storm-damaged roof repair is covered by your insurance.
Make sure you have your roof inspected by a local company before you file a claim, to make sure there is a legitimate damage.
Roofing Services
We are professional roofing contractors in Gainesville, Ga. Our services include:
New Roof Installation & Replacement
Roof Repair
Gutters
Division Kangaroof
Gainesville, GA 30507
(678) 780-4682
info@divisionkangaroof.com
Division Kangaroof
Serving North Atlanta, Gainesville and Surrounding Areas
https://DivisionKangaroof.com
678-780-4682
Roofing Services
October 2, 2015