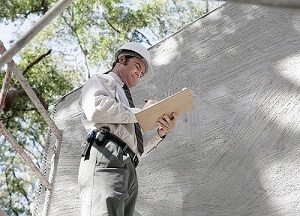 Roof Inspections Gainesville GA – Free Roof Analysis
Every homeowner will need a new roof at some point, and oftentimes a good roof inspection is a very important way to know when it's time to replace your roof, or simply do some repairs. No matter which part of the country you live in, your roof is subject to extreme weather conditions that can cause serious wear and tear over time. Sometimes, all it takes is one bad storm to wreak havoc on your roof, and that's when you want to let a Gainesville roofing company with years of experience do a roof inspection and help you know what your options are.
> Licensed Gainesville GA Roof Inspector
> Residential Roof Inspections
> BBB Rated Roof Inspections
> 24 Hour Roof Inspections
While it may be true that you don't truly know the quality of a job until its completion, you can rest assured that our team of dedicated roofing professionals will always provide the highest standard of workmanship possible. We care about our customers and want to see each and every one fully satisfied. If you're not sure what the condition of your roof is, call us for a free roof inspection and let us help you make the best decision for you and your family. Your roof is what keeps you shielded from the outside elements, as well as helping to keep your house cool in the summer and warm in the winter. Taking care of your roof should be as important as the maintenance on any other part of your home!
Roof Inspection Services
There's no substitute for a good thorough roof inspection. Even before you call in the pros, there are things you can do to inspect your roof on your own. As long as you don't neglect roof inspections, you will be able to see problems early and address them before they become costly. A few things we look for include:
> Shingles that are curling or warping
> Broken or missing shingles
> A chimney cap that is missing or damaged
> Large amounts of moss (This could indicate moisture underneath)
Most problems found in routine roof inspections are easily fixed with prompt attention. Your roof works overtime to protect you and your family, so do the same for your roof by having it inspected regularly! You'll be glad you did!
Roof inspections can be a daunting task but they don't have to be when you've got us on your side! We will gladly come do an extensive inspection and then sit down with you to help you understand the issues found. Whether it's dealing with insurance companies or just knowing that you're getting the best price out there, we are here to help you keep your roof in tip-top condition!
Call us today to schedule your roof inspection and find out why we're the best in the business!
Division Kangaroof
Gainesville, GA 30507
(678) 780-4682
info@divisionkangaroof.com
Division Kangaroof
Serving North Atlanta, Gainesville and Surrounding Areas
https://DivisionKangaroof.com
678-780-4682
Roofing Inspection Contractor
May 30, 2016