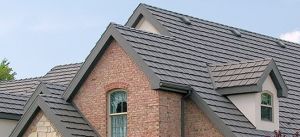 Some people shy away from choosing a metal roof because they think the cost is prohibitive. The answer to this question is yes and no.
Initially, you will pay more for a metal roof than you would for a traditional shingle roof.  But over the long haul, it's a savings.  Installing a metal roof will pay for itself in several ways which we will address here.  These reasons make choosing a metal roof for your home a no-brainer if you can swing the initial higher cost. The maintenance is negligible.  Once in a while, a "re-screw" might be needed, but even that is unusual.
Longevity of a Metal Roof
If you've done your research, and you choose a roofing contractor who is knowledgeable and experienced, you'll have a roof that will far out-perform a shingle roof.  For starters, metal roofs sometimes come with a 50 year warranty on material AND labor.  Kind of a "set it and forget it" situation.  Compare this to a typical residential asphalt or shingle roof, which has a warranty of far fewer years – sometimes just 15 years.
Beauty
Metal roofs can be beautiful! The choices of colors and styles are so varied, you'll be certain to find the perfect look for your house, and even end up being the envy of the neighborhood.  Metal roofs don't just look like the top of a warehouse.  They're stylish, sophisticated and highly desirable.
Energy Efficient
Again, if you do your homework, you'll discover that a metal roof can greatly decrease your power bill during the long hot months of a southern summer! The reason is that metal roofing has built in sun reflective properties.  Our electric bills are one of the biggest expenses in maintaining our homes, and you just can't discount the savings over time.
Bad Weather?  No problem!
You'll never have to worry about a leaking roof when you choose metal.  Just think about that for a minute!  Most costly repairs have something to do with water getting in where it doesn't belong.  This can lead to structural damage to your home that you can't see, and by the time it's detected, it's a bigger problem than just a roof leaking.  In colder climates, snow just slides off, and in warmer places, like Georgia, the typical storms with wind, hail and rain will not be a problem!
When you add up all the benefits of a metal roof, it makes it such a smart choice!
Finally, be aware that even the very best choices in metal roofing materials aren't the end of the story.  Your roofing system MUST be installed properly by a professional roofing contractor, so please give us a call at Division Kangaroof and let us guide you with our years of experience and expertise.
Division Kangaroof
Gainesville, GA 30507
(678) 780-4682
info@divisionkangaroof.com
Georgia Cities Served
Gainesville, Talmo, Chestnut Mountain, Oakwood, Gillsville, Pendergrass, Braselton, Flowery Branch, Hoschton, Lula, Maysville, Jefferson, Buford, Clermont, Murrayville, Auburn, Alto, Commerce, Homer, Winder, Cumming, Dacula, Baldwin, Suwanee, Dawsonville, Lawrenceville, Cornelia, Bethlehem, Dahlonega, Statham, Nicholson, Cleveland, Demorest, Athens, Duluth, Mount Airy, Bogart, North Metro, Norcross, Toccoa Falls
Division Kangaroof
Serving North Atlanta, Gainesville and Surrounding Areas
https://DivisionKangaroof.com
678-780-4682