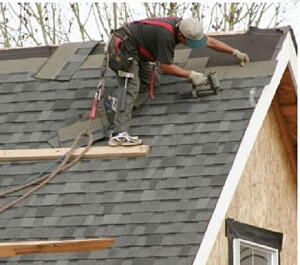 When it comes to roof repair, many roofing companies will automatically upsell you into buying a brand new roof when all that is needed may be some roof repairs. After all, that's how they make their money, right? Well, with us, you won't have to worry about being sold a new roof if all you need is some repairs.
Roof Repair From Storm Damage
Our commitment is to always do what is right for our customers, not just look for ways to make the most money! Here in the south, there are lots of roofs that are leaky due to storm damage. We've seen all kinds of damage to all types of roofing systems and when it comes to storm damage, we know our stuff. We can get your roof repaired or replaced, whichever the case may be.
Often, storms can leave your roof damaged, but many roofing companies will take advantage of the situation and try to sell you a whole new roof when lesser repairs could restore your roof to its original condition. We will come out and inspect your roof and give you a free estimate. We'll even handle all the paperwork with the insurance company. How can you go wrong with that?
Because we do so much roof repair, we are far better at it than many other companies who focus only on roof replacements. Our team is excellent at finding problems that can be fixed and doing repairs that will help you get the most life out of your roof. Whether you have a shingled roof, metal roof, tile roof or even a flat roof, we've got you covered no matter what the repair may be. You can relax knowing that we will restore your roof to its original state of excellence, whether there is water damage, improper installation or any other issue, large or  small!
Emergency Roof Repair
If you need emergency roof repair, we are here for you. Our team of roofing experts will be available whenever the need arises. Here in the south, storms often befall us, causing leaky roofs which can lead to other structural problems in your roof. Whether it's repairing a minor leak or coming up with a plan to replace the roof, we will always stand behind our work and aim to do the best job possible. Keeping you and your family safe is our number one priority!
Give us a try and learn why so many satisfied customers have come to rely on us for all their roof repair needs. You'll be with us for many years to come and can have peace of mind, knowing your family will be protected. Give us a call today for a free estimate!
Division Kangaroof
Gainesville, GA 30507
(678) 780-4682
info@divisionkangaroof.com
Division Kangaroof
Serving North Atlanta, Gainesville and Surrounding Areas
https://DivisionKangaroof.com
678-780-4682
Roof Repair
October 7, 2015