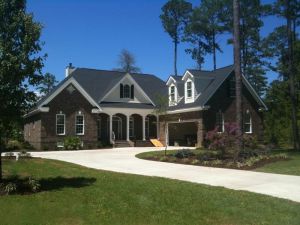 Roof Replacement Gainesville, GA
If you have tried repairing your roof without success or perhaps you just are simply ready to upgrade your home with a brand new roof, you can count on us for quality, top workmanship and experience to back up our claims. Our goal is not just to install as many roofs as we possibly can, but to do the best quality work we possibly can with every single roof we install. We keep our standards higher than the other guys and you can rest assured that when our team does a roof replacement on your home or business, it will be done to the highest degree of detail and excellence. In order to achieve this, we keep all of our crews highly trained in the installation and repair of all roofing systems.
Roofing systems come in many shapes and sizes, made of many types of materials. We are able to offer roof replacements and re-roofs no matter what type of roof you have. All of our licensed roofers are skilled in the many facets of roof replacements and we will guarantee your satisfaction each and every time.
Shingle Roof Replacement
Single roof replacements are among the most common and use overlapping shingles to protect against water and wind damage. Maintenance on shingle roofs is fairly simple once the roof has been installed properly, and our team of professional roofers will oversee your shingle roof replacement from start to finish.
Metal Roof Replacement
Did you know that metal roofs can be manufactured to look like shingles? One of the many wonderful qualities of choosing a metal roof replacement is the energy efficiency that comes with them. Metal roofing systems are known as "cool roofs" due to their ability to draw heat away from the home in the hot summer months, and keep it close to the surface during the colder months. This makes metal roofs an increasingly popular choice for roof replacements. After all, who doesn't want to save money on energy bills!
No matter which type of roofing system you choose, we can do it all. When it comes time to replace your roof, look no farther because we've got you covered!
Give us a call today for a free estimate and let us show you why we're the best at what we do!
We're even happy to provide you with references upon request. At the end of the day, we want you completely satisfied!
Division Kangaroof
Gainesville, GA 30507
(678) 780-4682
info@divisionkangaroof.com
Division Kangaroof
Serving North Atlanta, Gainesville and Surrounding Areas
https://DivisionKangaroof.com
678-780-4682
Roof Replacement & Installation
October 6, 2015